A slow-cooked chicken drummies recipe that uses minimal ingredients. This recipe is gluten-free, grain-free, dairy-free, soy-free, sugar free and paleo.
ingredients
10 chicken leg drummies, thawed
4 Tbsp Organic Red Palm Oil

2 medium lemons + zest, juiced
2 Tbsp fresh parsley
1.5 tsp ground pepper
1 tsp kosher salt
instructions
1. Gather and measure all ingredients.
2. Place the chicken drummies in a large bowl, and coat them with the melted Red Palm Oil.
3. Add the salt, pepper and parsley and stir together well.
4. Transfer mixture to the slow cooker.
5. Using a grater, zest the two lemons over the mixture in slow cooker. Once the lemons have been fully zested, squeeze the juice from both over the chicken drummies.
6. Place the slow cooker cover on, and slow cook on low for 5-6 hours. (As slow cookers can cook at different speeds, check to see if they are done to your liking after 5 hours. If not, continue to cook on low until done.)
7. Once they are done, remove from slow cooker and serve immediately. (Added option: pour the "juice" leftover on the bottom of the slow cooker over them for even more flavor.)
Are you ready for the best ever recipe for Slow-Cooked Lemon-Pepper Chicken Drummies?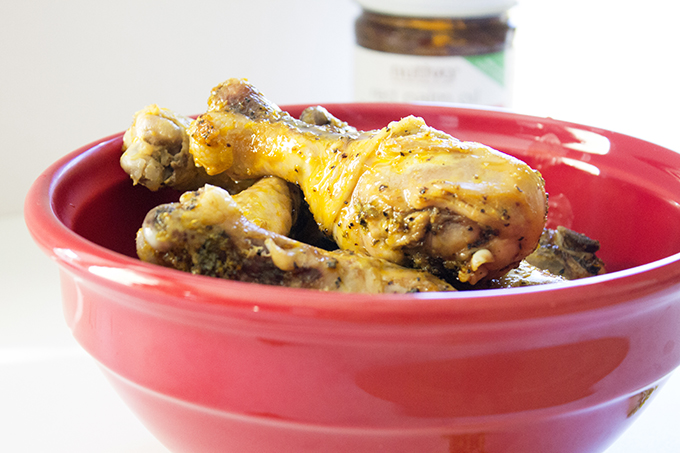 What could be better on Super Bowl Sunday than an appetizer filled with flavor but without the preservatives, additives, and GMOs typically present during the day's festivities?
Nothing, of course, except for a Super Bowl win from your favorite team!
Not only is this recipe filled with flavor, but it's also super easy to make. Once you mix your ingredients, the only thing left to do is place them in the slow cooker and let the slow cooker work for you. 5 hours later and in addition to having your Super Bowl appetizer, you'll also be convinced that this could be the base to a wonderful meal all year long.
slow-cooked lemon-pepper chicken drummies
Click HERE to save this recipe for later.