The recipe contains nutrient-dense ingredients and super nutrition, and because it's so versatile, we guarantee you will find many different ways to enjoy it!
ingredients
1 1/2 Green Plantains, cut into small pieces (approximately 1.5 cups)
2 tbsp Nutiva Organic Hempseed

1 tbsp Flaxseed + 3 tbsp water
1 tbsp Nutiva Organic Chia Seed + 3 Tbsp. water
1 1/2 tbsp Nutiva Organic Coconut Flour

2 tbsp Nutiva Organic Coconut Oil, (measured then melted)
1 tsp Turmeric
1 tbsp Basil
3/4 tsp Sea Salt
instructions
1. Preheat oven to 400°F.
2. Gather and measure all ingredients.
3. Line a 9×12 pan with parchment paper. (Cut the parchment paper so it fits the pan almost exactly. This will make it easier to spread the flatbread batter to the edges, and then to peel off once baked.)
4. Place chia seeds, flaxseeds and water into a small dish. Stir, and set aside, allowing it to "gel" for at least 5 minutes.
5. Place plantain pieces, hempseed, coconut flour, turmeric, basil and sea salt in a blender or food processor.
6. Add in the chia seed and flaxseed mixture.
7. Blend mixture until it reaches a smooth consistency, scraping down the sides about halfway through (you don't want any large pieces of plantain).
8. Spread mixture onto the parchment paper, covering the pan until it's smooth and even.
9. Bake on the second shelf of the oven for 17 minutes.
10. Serve immediately.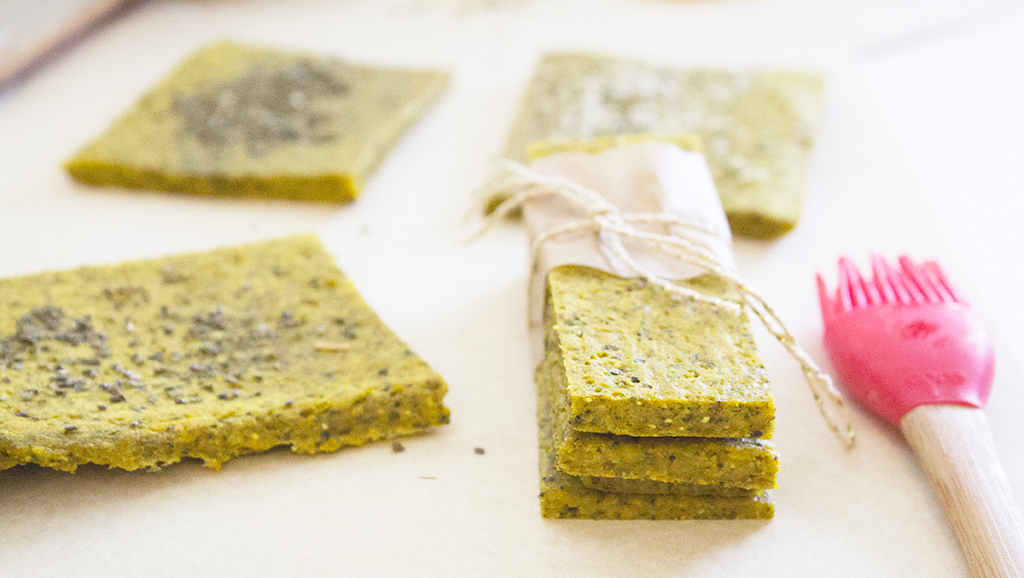 This basic recipe for Savory Hempseed Flatbread not only tastes amazing on its own (lightly brushed with coconut oil, of course), but also acts as an extremely versatile flatbread.
This recipe is gluten-free, grain-free, dairy-free, soy-free, vegan and paleo.
(For more ways to celebrate superfoods, see our Celebrate Superfoods Pinterest board.)