This sensational papaya blend will transport you to tropical paradise (don't skip the chile). Loaded with vitamins A and C, fiber, manganese, and enzymes (papaya's papain and pineapple's bromelain), this cleansing cocktail aids digestion and alleviates bloating
ingredients
1 cup canned coconut milk (shake, then pour)
1/4 cup freshly squeezed orange juice
1 1/2 cups chopped papaya
1 tablespoon coconut nectar or other liquid sweetener
pinch of finely grated orange zest
3/4 cup frozen pineapple
3/4 cup frozen strawberries
1 cup ice cubes
Optional Boosters
1 tablespoon Nutiva coconut oil
1 tablespoon pomegranate powder
1/2 teaspoon finely chopped serrano chile, plus more to taste
instructions
1. Throw all of the ingredients into your blender and blast on high for about 1 minute, until smooth and creamy.
2. Makes two 16-ounce glasses
This sensational papaya blend will transport you to tropical paradise (don't skip the chile). Loaded with vitamins A and C, fiber, manganese, and enzymes (papaya's papain and pineapple's bromelain), this cleansing cocktail aids digestion and alleviates bloating. The anti-inflammatory power can support recovery from sports injuries and other physical trauma. I love fortifying my smoothies with Nutiva coconut oil, and the flavor it adds is magic in this blend.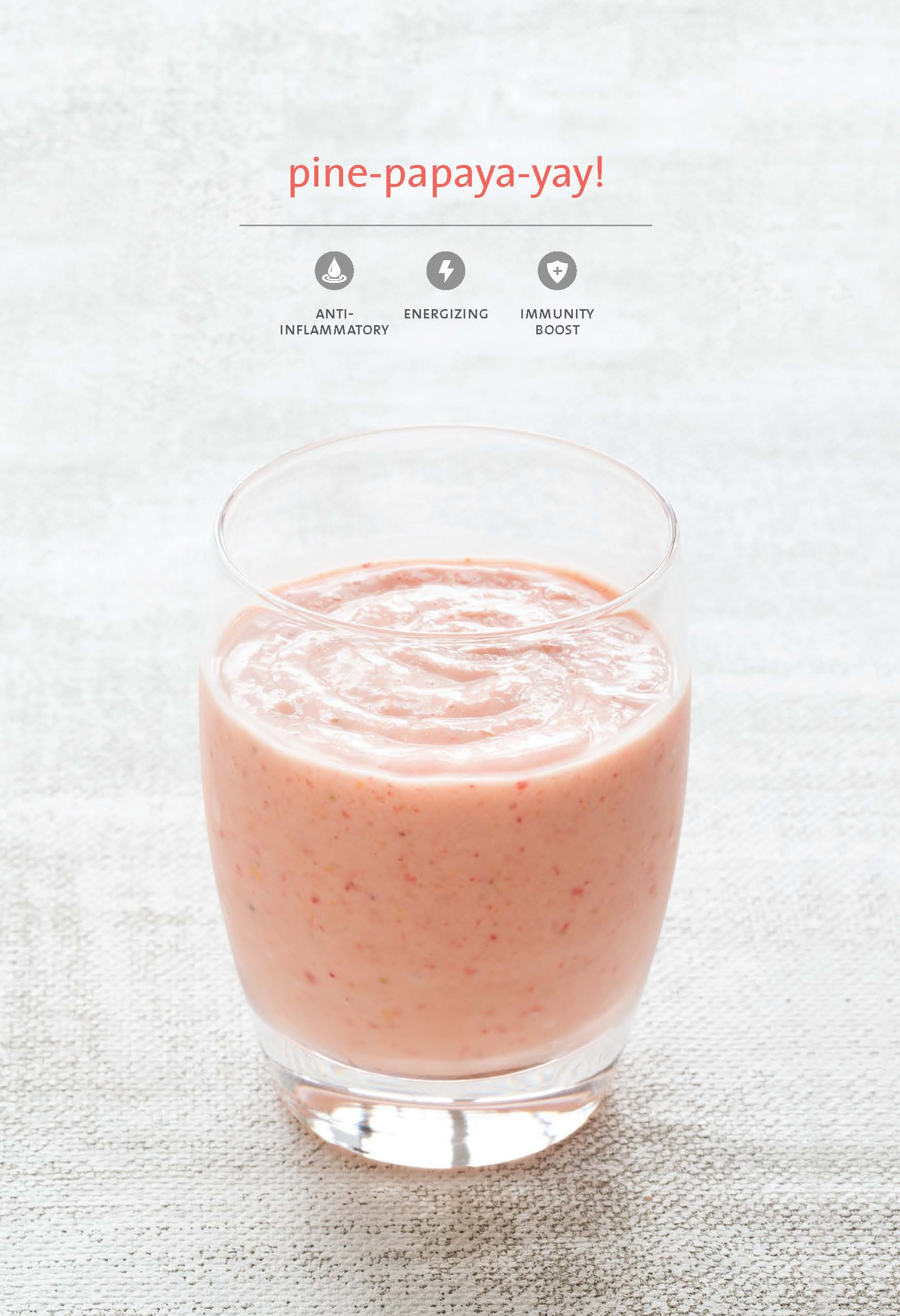 Coconut oil works into blends best in the liquid state. If you add it in the solid state when a blend is icy cold it can congeal into small buttery bits. One teaspoon of coconut oil adds a faint coconut note to blends, and 1 tablespoon becomes quite assertive. One tablespoon boosts the flavor of other coconut ingredients–water, milk, or meat.
The cold-pressed virgin coconut oil from Nutiva, extracted with low heat from fresh coconut meat (not from the dried coconut kernels called copra) is my favorite coconut oil. This is not just the tastiest but it also contains medium-chain fatty acids that are so great for our health.
Coconut oil adds an energizing quality to smoothies. The healthy fats can boost endurance, making it a great supplement for workout shakes. Coconut oil is also thought to be more readily assimilated by the body because it is comprised of medium-chain fatty acids (as opposed to long-chain fatty acids found in most dietary fats). Healthy dietary fats help increase the absorption of fat-soluble vitamins (A, D, E, and K). Dietary fat is essential for brain function and contributes to healthy skin and hair. So drop some coconut oil into your smoothies and reap the rewards!
get the blender girl smoothies app (100 delicious recipes!) –>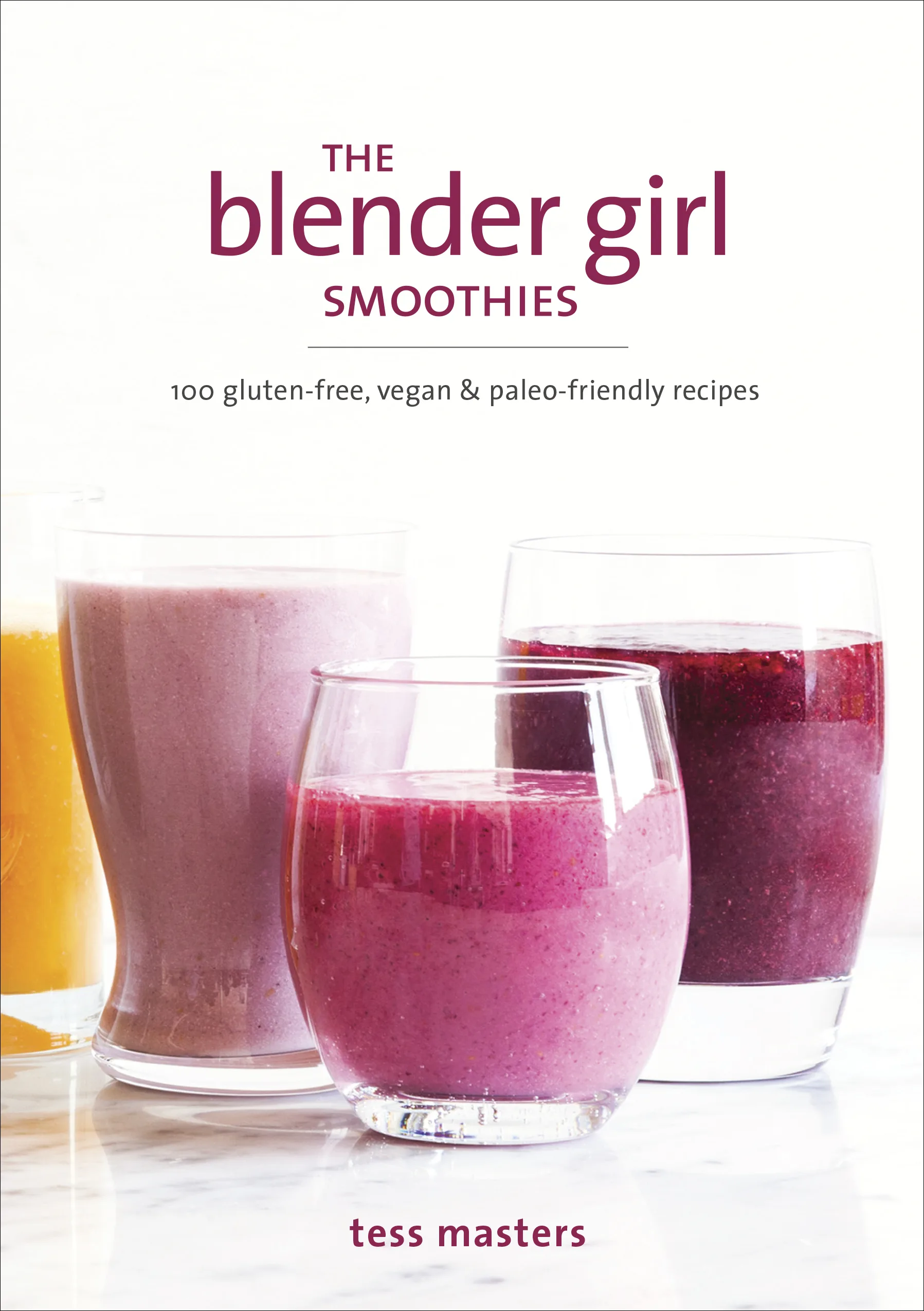 Credit: Reprinted with permission from The Blender Girl Smoothies, by Tess Masters, copyright © 2014, 2015, published by Ten Speed Press, an imprint of Penguin Random House LLC.
Photographs copyright © 2014 by Erin Kunkel