These Hummus Hempseed Avocado Boats are a delicious and healthy snack.
ingredients
For the salad:
1/2 cup diced tomatoes
3/4 cup diced cucumber
1 tbsp finely chopped red onion
1 tbsp finely chopped mint and parsley
1 tbsp lemon juice
1 tbsp olive oil
Salt and pepper, to taste
For the tahini sauce:
2 tbsp tahini
2 tbsp lemon juice
1 tbsp water
Salt and pepper to taste
For the avocado boats:
instructions
1. Prepare the salad by mixing together tomatoes, cucumber, red onion, herbs, lemon juice and olive oil. Season with salt and pepper.
2. Make the sauce by whisking together tahini, lemon juice and water. Season with salt and pepper.
3. Arrange avocado halves on a plate or platter and fill each with 2 tablespoons of hummus, salad, tahini sauce and a tablespoon of hempseeds on each. Serve immediately.
These Hummus Hempseed Avocado Boats are a mouthwatering snack that is vegan and packed with nutrients so you have zero regrets. This flavorful snack includes Hempseed, which is not only delicious but the world most nutritious seed!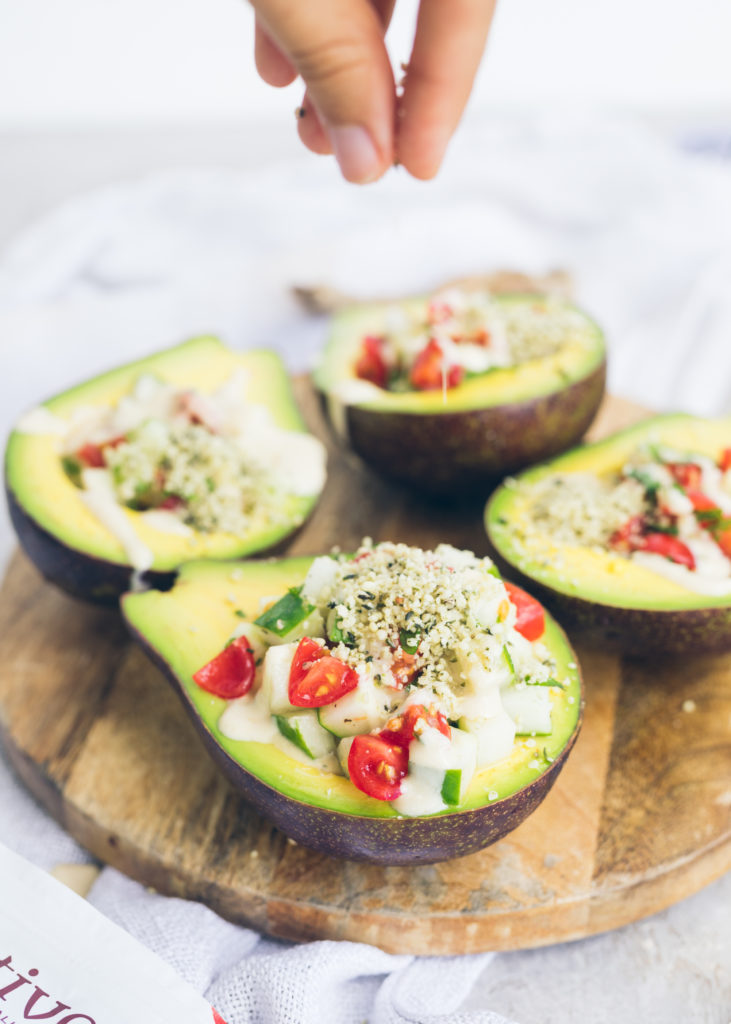 Here are to 12 ingredients you will need to make this super tasty treat.
Nutiva Organic Hempseeds are rich in protein, omega-3, and fiber. This nutty-tasting seeds have a wide variety of uses including sprinkling over salads, adding to shakes or including in baked goods. They are certified organic, non-GMO, unrefined and always chemical free.
The recipe for these Hummus Hempseed Avocado Boats is so simple that you'll be able to make these on a moments notice.
Recipe + images created by @anettvelsberg
What do you like to sprinkle Nutiva Organic Hempseed on?