ingredients
1 red bell pepper, cut into strips
1 orange bell pepper, cut into strips
1 yellow bell pepper, cut into strips
1 cup mushrooms
3 stalks celery, sliced
1/2 red cabbage, shredded
1 cup snap peas, ends removed
2 tbsp Organic Liquid Coconut Oil
3 garlic cloves, minced
salt and pepper to taste
instructions
1. Place all ingredients (except salt and pepper) in a large saute pan, and saute over medium heat until ingredients cooked to your preference.
2. Remove from heat, plate, and sprinkle salt and pepper to taste.
Your eyes and mouth are both going to enjoy this Colorful Vegan Stir Fry.
Not only is it visually appealing, but it's full of flavor and variety.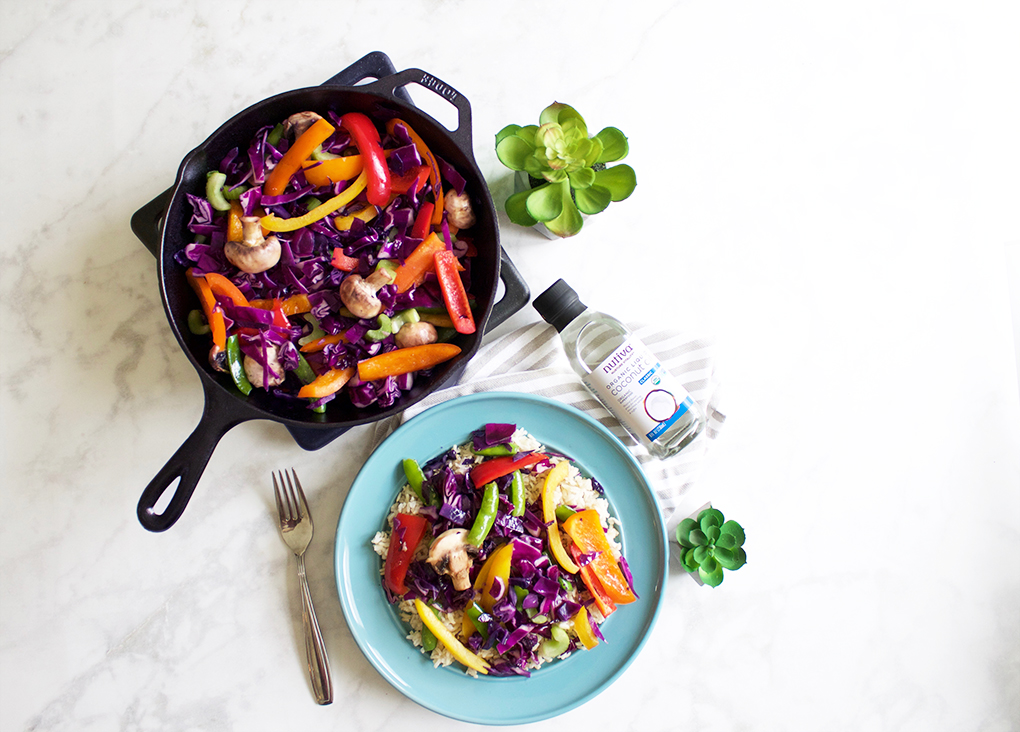 From the bell peppers to mushrooms, celery to cabbage, peas and more, this stir fry is guaranteed to provide two thumbs up.
Toss it together in the Nutiva Organic Liquid Coconut Oil and throw it over a bed of rice for a full meal waiting at your fingertips. Alternatively, you can throw this meal on a bed of Buttery Vegan Riced Cauliflower.
Colorful Vegan Stir Fry
Click HERE to save this recipe for later.

If you want a simple dressing to pour over the saute once it has finished cooking, try our Homemade Vinaigrette Dressing.
Nutiva Organic Liquid Coconut Oil is derived from our pure Organic Virgin Coconut Oil and contains concentrated levels medium-chain triglycerides.
Do you enjoy a huge Vegan stir fry? What do you put in yours?