ingredients
1 banana (~ 1 cup) (fresh or frozen)
2 tbsp. Organic Shelled Hemp Seed

½ cup blueberries (fresh or frozen)
½ cup raspberries (fresh or frozen)
½ cup milk of your choice (this recipe was made with coconut milk)
2 tsp. vanilla extract
½ tbsp. mint leaves (fresh)
2 heaping handfuls spinach (fresh)
10 ice cubes
instructions
1. Gather and measure all ingredients.
2. Place milk, berries, extract, mint, spinach and hempseeds in the blender. Add any of the optional add-on boosts, if desired.
3. Next, add the banana and ice cubes.
4. Blend on high until all ingredients are completely blended together, forming a perfect smoothie consistency.
5. Pour mixture into 2 glasses. If desired, top with raw cacao nibs for a little crunch.
6. Serve immediately.
We have something berry-licious for you today….our Berry-licious Hemp Smoothie!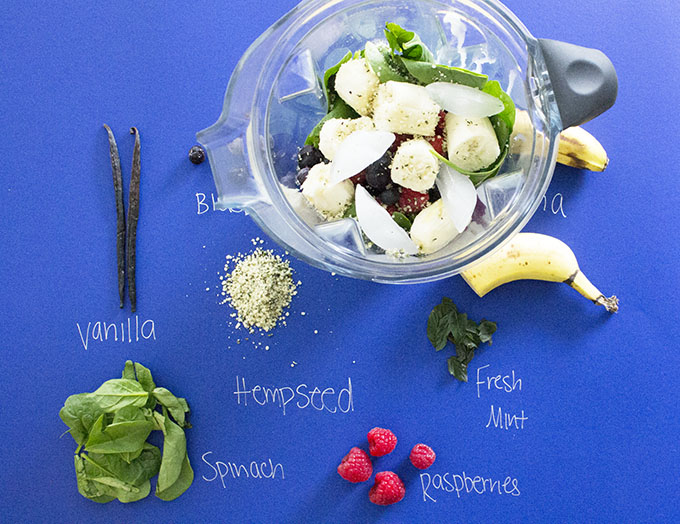 The New Year brings promises for personal growth and positive change. From lifestyle to professional and relationship to financial goals, our beginning of the year hopes, dreams and aspirations are plentiful. Some of these goals will quickly fade, but others will make their mark on our daily lives. The changes that typically last are the ones that are easy to incorporate into the day to day, because they are simple and specific instead of vague and broad.
For example, "This year I will have a smoothie each day to live a healthier, more nourishing lifestyle" can be much more achievable than saying, "This year I'm going to be my healthiest ever." Small, simple changes add up quickly.
Give it a try. You'll be surprised! To get you started with this small, simple change, we've created a smoothie recipe to help kick off your new year.
(For more 2015 kickoff inspiration, see the following Pinterest boards: Juicing – Juices Tips & Tricks, Super Smoothies and How to Use Hemp).
berry-licious hemp smoothie
Click HERE to save this for later.